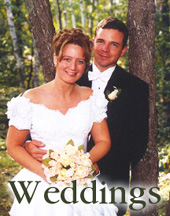 Welcome to my wedding page. Yes, I shoot weddings. Here are a few samples of my wedding photography.
If you want to see a sample wedding album contact me. I have one at my studio. If you want to secure me to record your wedding, contact me at tbuchkoe@chartermi.net

I do not charge for travel if your wedding is in Marquette county Michigan. I recently did weddings in Ann Arbor, Port Huron, St Kitts in the Caribbean, and Austin, Texas, so I will go anywhere outside Marquette county if you want to pay for travel. You can call me for prices at 906-226-3459.

If you wish to view a full wedding package photo album, go here. here. You can also check out my Photography page on Facebook here.

Tom Buchkoe is a top wedding photographer in the Marquette, Michigan Wedding Photography guide on BigDaySmallWorld.com.